suppose the soul is a stone
and not the holy cellophane
I've fancied it,
and thus — like the body
short of heat, stripped
even of the heart's
flimsy flam–
does not hover, waft, ascend,
breastroke its way
into a panoramic hereafter
(flourish of French horns
and the multitudes joined
in a sheepish rendition
of the Twenty-third Psalm)
Yes, I think the soul
is a stone and sticks
with the body
frazzled compadre.
And that is why we shut
the dead behind doors
without knobs
and chuck them in holes
and snub them.
That is why we leave
pages of marble
or even small houses
atop them–
to press them smooth,
to weigh them on their way.
It is the soul
steers the body,
scuttles it so
it won't be recovered
by the sharpest shovel,
the deepest sigh…
And heaven is a dark place
hidden somewhere
in the earth's hard gut
where a few stones,
the lucky ones,
roll together finally
and are still.
And this is why I keep
always a few pebbles
buried in my pockets.
You could call it
honoring the dead.
I call it getting started.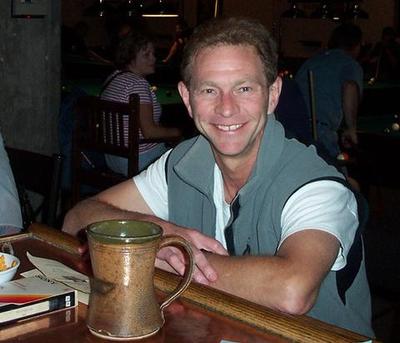 Simmerman was born in Boulder, Colorado, in 1952. He received his MFA in Poetry from University of Iowa in 1980. He was Regents Professor of English at Northern Arizona University in Flagstaff, Arizona, where he led poetry writing workshops and served as an advisor to the literary journal Thin Air. His poems have appeared widely in journals (Antæus, Georgia Review, North American Review, Ploughshares, Poetry), anthologies (The Bread Loaf Anthology of Contemporary American Poetry, The POETRY Anthology 1912-2002, Pushcart Prize X: Best of the Small Presses), and textbooks (Literature: Reading, Reacting, Writing; Thirteen Ways of Looking for a Poem: A Guide to Writing Poetry; Western Wind: An Introduction to Poetry); and his poetry writing exercise "Twenty Little Poetry Projects" generated the anthology Mischief, Caprice, & Other Poetic Strategies (Red Hen Press, 2004), edited by Terry Wolverton.